With many years national and international experience, our skill sets and expertise allow us to undertake just about any timber frame construction or structural carpentry project of any style or scale.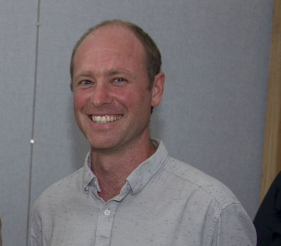 Jasper Emanuel - Director
Jasper was a founding director when EmanuelHendry was formed in 2008 and used his skills and experience to specilaise in product design and innovation. His creations blend the best of modern design with the beauty of traditional timber structures.
In May 2017, Jasper took sole directorship of EmanuelHendry, with exciting plans to grow the business from strength to strength. With his experienced team, Jasper continues to grow our reputation for outstanding quality, craftsmanship and innovation.
Jasper is a competitive sportsman, and has been crowned the fastest man in the area after winning the Two Hills Race in Chagford.
Permanent Crew The carpenters on the workshop floor are our most valuable assets.
With each job the team grows together in knowledge and experience.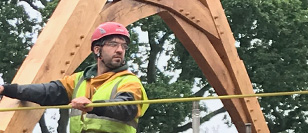 Hugh Arnold - Operations Manager
With an honours degree in Geophysical Sciences from Lancaster University, Hugh took an intensive woodwork course, followed by qualifications in forestry and tree surgery.
His passion for trees and the sustainable use of wood brings a unique insight and edge to the structural carpentry work he does for EmanuelHendry. For over 15 years Hugh has been a full-time carpenter and timber framer and he brings great flair and attention to detail to every project he undertakes.
In his free time, Hugh is a keen rock climber, martial artist and musician.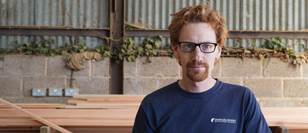 Tom Murrell - Senior Carpenter and Project Manager
Tom initially spent a while in the US learning North American style timber framing, before working across the UK from Brighton to Bristol as a founding member of timberworks. Tom brings his experience, craftsmanship and considered methodology to EmanuelHendry as a lead carpenter and project manager.
Outside of work Tom enjoys climbing and exploring Dartmoor, alongside spending time with his young family.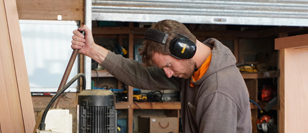 Barney Farrell - Carpenter and Project Manager
Barney joined EmanuelHendry in Spring 2019. With his sharp eye for detail and passionate approach, Barney specialises in structural timber framing and turns out a fair set of Doors and windows to match.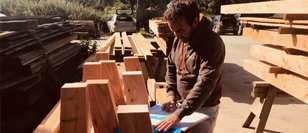 Stuart Birch - Designer and CAD Technician
With a Bsc (hons) degree in product design and manufacture from Bournemouth University and over twenty years experience as a CAD technician, Stuart's many transferable skills have given him continuous employment in both the manufacturing and the building industries. Since May 2018, he has been a CAD technician at EmanuelHendry, developing many exciting projects from concept through to construction.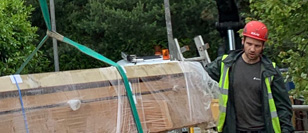 Sam Dooley - Joiner
Sam brings his extensive joinery and and carpentry experience to the team. Working from France to Dartmoor, Sam has run his own construction company for over 15 years. Sam now heads the bespoke joinery department at EmanuelHendry specialising in precision, quality and a genuine passion for all things timber.
Sam's interests outside of work include sleepless nights with three young children!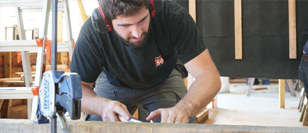 Jean Teisserenc - Carpenter, Les Compagnons du Devoir
Jean is currently on his 'Tour de France' spending a year with EmanuelHendry before completing his 7 year apprenticeship with Les Compagnons du Devoir. Jean's expertise lies in compound roofing geometry where he has learnt the historic skill of 'L'art du Trait de Charpenterie'.