With many years national and international experience, our skill sets and expertise allow us to undertake just about any timber frame construction or structural carpentry project of any style or scale.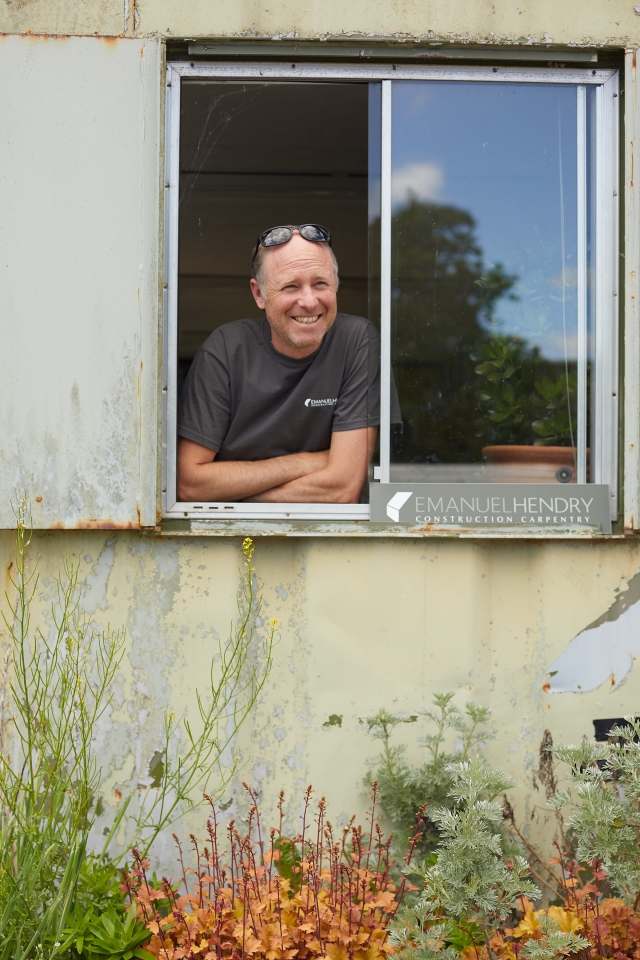 Jasper Emanuel - Director - Sales
Jasper was a founding director when EmanuelHendry was formed in 2008 and used his skills and experience to specialise in product design and innovation. His creations blend the best of modern design with the beauty of traditional timber structures.
During the last 5 years Jasper has steered the company towards picking up multiple industry awards and nominations including the Wood Awards, The Architect's Journal 'Small Projects Award', Dezeen Awards and more and continues to grow our reputation for outstanding quality, craftsmanship and innovation.
Jasper is a competitive sportsman and has been crowned the fastest man in the area after winning the Two Hills Race in Chagford, as well as playing Tennis for the local tennis club, Sunday football and running. He is a keen beekeeper and gardener and loves to travel, whether that is hiking across Dartmoor, climbing a Scottish Munro or recently camper vanning with the family around the Western side of the USA.
Permanent Crew The carpenters on the workshop floor are our most valuable assets.
With each job the team grows together in knowledge and experience.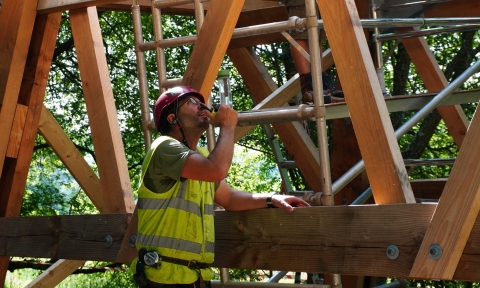 Hugh Arnold - Operations Manager - Project Manager
Starting with an honours degree in Geophysical Sciences from Lancaster University, Hugh has continued to acquire skills and qualifications throughout his career. Hugh has recently become a level 5 AP (appointed person), planning all lifting operations within the company also recently qualifying for the MCIB and SMSTS to add to qualifications in carpentry, forestry, tree surgery and many more.
His passion for sustainable buildings brings a unique insight and edge to the structural carpentry work he does for EmanuelHendry. The not small feat of recently building his own house adds to the experience and understanding of over 15 years as a full-time carpenter, timber framer and project manager with EmanuelHendry.
In his free time, Hugh is a keen rock climber, Sailer and musician.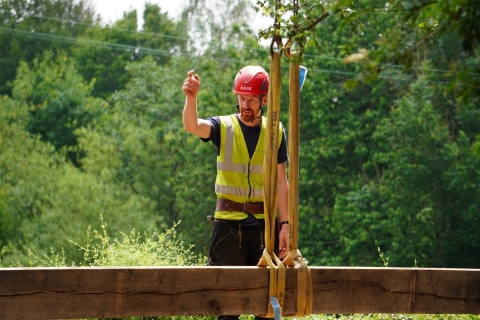 Tom Murrell - Project Manager - Designer
Tom initially spent a while in the US learning North American style timber framing, before working across the UK from Brighton to Bristol as a Timber framer, carpenter and project manager. Tom brings his experience, craftsmanship and considered methodology to EmanuelHendry as a senior carpenter, project manager and designer.
Outside of work Tom enjoys climbing and exploring Dartmoor, alongside spending time with his young family.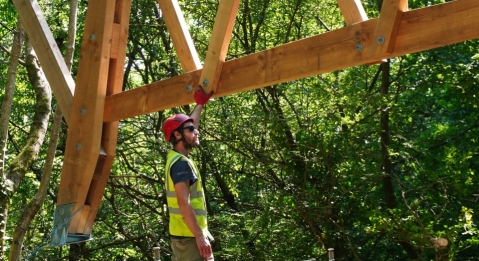 Barney Farrell - Senior Carpenter - Project Manager
With his sharp eye for detail and passionate approach, Barney specialises in concept to completion carpentry from structural timber framing in the workshop, through to glazing, cladding and on site finishing.
Having completed 'Douglas Fir House' in Muswell Hill, Barney was part of the team that picked up the covetous Wood Award in 2022.
Jack Dixon - Senior Carpenter - Project Manager
Having originally worked with us from 2011 to 2014 following completing his level 3 in wood occupations, Jack has returned to EmanuelHendry with a strong mindset determined to squeeze out efficiencies and streamline processes in our work, designing, fabricating and installing timber buildings.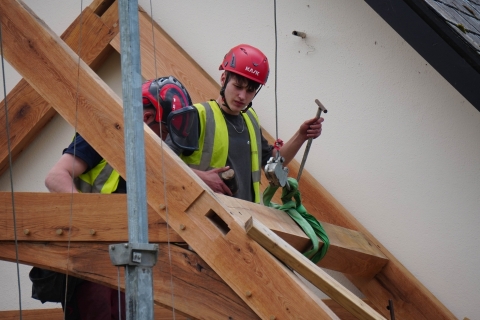 Fin Goodwin - Carpenter - Timber framer
Fin Completed his level 2 Site carpentry Apprenticeship with EmanuelHendry from 2021 to 2023 receiving a Distinction from Exeter College. Fin now works as a timber framer and site carpenter contributing to amongst others to our recent design and build 'Nymetwood Treehouses'.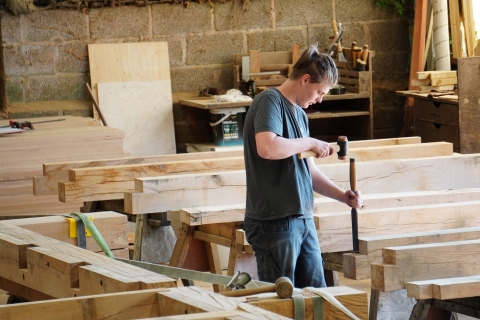 Jude Earp - Apprentice Joiner
Jude is currently undertaking his level 2 apprenticeship in Bench Joinery at Exeter College. His current claim to fame is single handedly shaping every new oak board in the Herringbone Ceiling for Exeter Cathedral's new Cloister roof.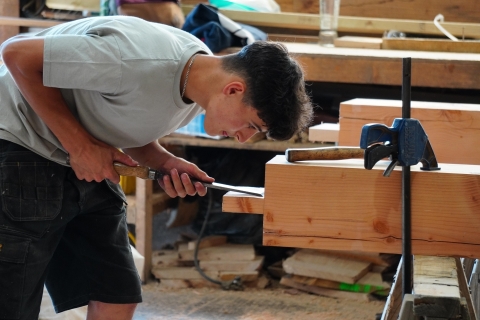 Sylvan Landers - Apprentice Site Carpenter
Sylvan is currently undertaking his level 2 apprenticeship in Site carpentry at South Devon College.