With many years national and international experience, our combined resources and skill sets, allow us to undertake just about any timber frame construction or carpentry project of any style or scale.
Jasper Emanuel - Director
After Studying Ecological Agriculture, Jasper went on to complete an NVQ apprenticeship in Site Carpentry at Exeter Collage. He then spent 2002-2008 working as 'Emanuel Brother's', undertaking the building of various timber buildings and structures around the UK. Jasper also worked for his father at 'Stephen Emanuel Architects' surveying and drawing and now specialises in the product design and innovation for the company using Vector Works. His creations blend modern designs with traditional timber structures.
Jasper is a competitive sportsman, and has been crowned the fastest man in the area after winning the Two Hills Race in Chagford! He is a keen beekeeper and gardener and loves to travel.
Direct Contact: jasper@emanuelhendry.co.uk
Permanent Crew The carpenters on the workshop floor are our most valuable assets.
With each job the team grows together in knowledge and experience.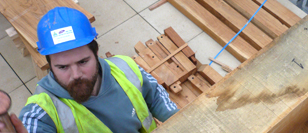 John Lawrence - Carpenter
Following studying Ceramic Design at St Martin's, John co-founded the construction company 'Character Builder's' in 2003, specialising in traditional lime plastering and cob building and contributing to the growth of this award winning business.
In 2006, John brought his countless talents and expertise over to EmanuelHendry. His leisure pursuits include music and fishing.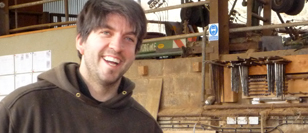 Hugh Arnold - Carpenter
With an honours degree in Geophysical Sciences from Lancaster University, Hugh's first experience in the world of woodwork was on an intensive course where he learnt coppicing, chair-bodging, yurt-building, hurdle-making, charcoal burning and a host of other associated skills.
Whilst travelling in Guatemala he put these skills to good use, participating in the demolition of earthquake-damaged buildings and the subsequent building of a new house in wood. On returning to the UK, Hugh began a forestry course followed by a winter cutting hazel coppice and making hurdles on the Castle Goring Estate, Worthing, W.Sussex. He has since gained qualifications in tree surgery and participated in the full rebuilding of a derelict Catalan farmstead.
Since his return to the UK in 2007, he has been a full-time carpenter and timber framer. As well as being passionate about trees and the sustainable use of wood, Hugh is a keen rock climber, martial artist and musician.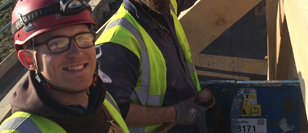 James Perkins BSc (Hons) Building Surveying and the Environment - Carpenter
Graduating from the University of Plymouth in 2011 with an honours degree in building surveying and the environment. James initially worked as a project manager on medium to large scale renewable energy contracts before moving over to EmanuelHendry in 2014
Outside of work James enjoys canoeing and climbing alongside spending time with his young family
Corrie Warburton BSc (Hons) Film Arts - Designer and Cad Technician
With a first class honours degree in Film from Plymouth college of art and over ten years work as a Cad technician, Corrie's many transferable skills have given him continuous employment in both the film and the building industry. Since 2015, he has been a full-time Cad technician at EmanuelHendry, developing many exciting projects from Concept through to construction. As well as being passionate about Film, Corrie's interests lie in Wildlife photography/Filmmaking and his allotment.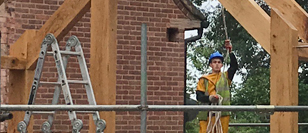 Jed Dixon - Joiner
Jed brings his extensive joinery experience to the team. After completing an NVQ apprenticeship in Bench Joinery, Jed has worked on various joinery projects around the south west. Jed's interests include Hockey, where he has played at the top level for many years representing England and now regularly plays club hockey for Exeter.
EmanuelHendry Ltd was originally formed in May 2008, merging the two established companies of Emanuel Brothers Timber Construction and Joel Hendry Timber Frames and Carpentry.
In May 2017, after nine years of successful trading, EmanuelHendry was restructured and entered an important new chapter in its story.
Two of the founding directors, Oscar Emanuel and Joel Hendry, left the company in order to pursue new interests.
Jasper Emanuel took on sole directorship of EmanuelHendry Ltd, with exciting plans to take the business from strength to strength.
With his experienced team, Jasper continues to grow our reputation for outstanding quality, craftsmanship and innovation.